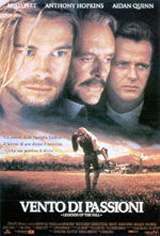 Titolo Originale: LEGENDS OF THE FALL
Regia: Edward Zwick
Interpreti: Brad Pitt, Anthony Hopkins, Aidan Quinn, Julia Ormond, Henry Thomas, Karina Lombard, Christina Pickles
Durata: h 2.13
Nazionalità: USA 1994
Genere: drammatico
Al cinema nel Settembre 1994
• Altri film di Edward Zwick
Trama del film Vento di passioni
Il colonello William Ludlow si è ritirato in una fattoria per darsi all'allevamento. Con lui crescono i suoi tre figli: Alfred, Tristan e Samuel che darebbero la vita l'uno per l'altro. Ma quando Samuel porta a casa la fidanzata Susannah, iniziano i problemi tra Alfred e Tristan, infatti entrambi si innamorano di lei.