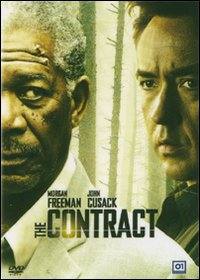 Titolo Originale: THE CONTRACT
Regia: Bruce Beresford
Interpreti: Morgan Freeman, John Cusack, Jamie Anderson, Alice Krige, Megan Dodds, Corey Johnson, Jonathan Hyde, Bill Smitrovich, Anthony Warren, Ned Bellamy
Durata: h 1.36
Nazionalità: Germania, USA 2006
Genere: drammatico
Al cinema nel Febbraio 2006
• Altri film di Bruce Beresford
Trama del film The contract
Frank Carden, assassino addestrato dal governo e ora "libero professionista", viene arrestato da un ordinario poliziotto di una cittadina dello stato di Washington. Gli agenti federali lo prendono in custodia per portarlo alla vicina metropoli, ma vengono attaccati, su una strada di montagna, da un gruppo affiliato a Carden. Questi riesce a fuggire, solo per finire però tra le manette di Ray Keene, un ex poliziotto ora insegnante che attraversava i boschi col figlio teenager ribelle.