[banner]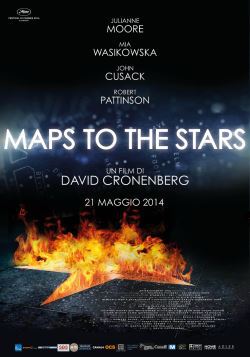 Titolo Originale: MAPS TO THE STARS
Regia: David Cronenberg
Interpreti: Julianne Moore, Robert Pattinson, John Cusack, Mia Wasikowska, Olivia Williams, Evan Bird, Sarah Gadon, Carrie Fisher, Kiara Glasco, Justin Kelly, Emilia McCarthy, Jayne Heitmeyer
Durata: h 1.43
Nazionalità: Canada, USA 2014
Genere: drammatico
Al cinema nel Maggio 2014
• Altri film di David Cronenberg
Trama del film Maps to the stars
Guidata dal padre Stafford (John Cusack), un psicoterapeuta celebre per i suoi libri di auto-aiuto, e dalla moglie Christina (Olivia Williams), prepotente madre manager, la famiglia Weiss ha fatto dell'ossessione per la celebrità il proprio marchio distintivo. Il tredicenne figlio Benjie (Evan Bird) è una star della tv ed è finito recentemente in riabilitazione per droga, mentre l'estraniata figlia Agatha (Mia Wasikowska) è appena uscita da un ospedale psichiatrico quando stringe amicizia con l'autista di limousine Jerome (Robert Pattinson), anch'egli aspirante attore. Una delle clienti celebri che frequentano lo studio di Stafford è Havana Segrand (Julianne Moore), un'attrice il cui sogno di riprendere il ruolo interpretato negli anni Sessanta dalla madre Clarice (Sarah Gadon), ormai morta, si sbriciola lentamente mentre fantasmi, morte e vizi prendono il sopravvento.