Indagine Ad Alto Rischio (1987)
[banner]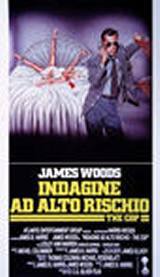 Titolo Originale: BLOOD ON THE MOON
Regia: James B. Harris
Interpreti: James Woods, Lesley Ann Warren, Charles Durning, Randi Brooks
Durata: h 1.47
Nazionalità: USA 1987
Genere: thriller
Tratto dal libro "Le strade dell'innocenza (Blood on the Moon)" di James Ellroy
Al cinema nel Settembre 1987• Altri film di James B. Harris
Trama del film Indagine ad alto rischio
Il sergente Lloyd Hopkins sta indagando sull'uccisione di una donna, anche se il suo intuito lo porta a pensare che non si tratti di un caso isolato. C'è un maniaco, pensa Lloyd, che da quindici anni uccide e la fa franca. C'è un maniaco, pensa la moglie di Lloyd, che vive in questa casa ed è mio marito. È per questo che a metà indagine Lloyd resta solo e con una pericolosa ossessione in testa.